Amores
2004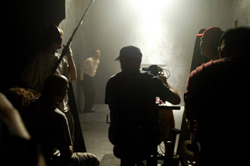 Drama Series
Creator and writer of the serial Amores. Also, responsible for the shooting and editing process as an executive producer.
CREW:
Script: José Ignacio Valenzuela
Director: Paloma Todd / Roberto Busó
Production: Pedro López
CAST:
Joaquín Jarque
Axel Anderson
Yamaris Latorre
Sara Jarque
Sully Díaz
René Monclova
Dolores Pedro
Rocky Venegas
Gladys Rodríguez
Gilda Galán
Luz Odilea Font
Sunshine Logroño
Antonio Pantojas
Jacobo Morales
Nominated for an Emmy Award (Suncoast Chapter), in the category of Writing (2005)
Producciones Caleidoscopio Inc. for TUTV
San Juan, Puerto Rico
2004
---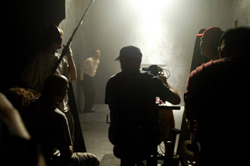 Amores es una serie de televisión que explora el mundo de la actuación desde su forma más básica y solitaria: el monólogo. Si para que haya un ejercicio actoral se necesitan sólo un actor, un texto, y alguien que lo oiga, pues Amores nos ofrece catorce espléndidos y reconocidos profesionales de la actuación en Puerto Rico.
Amores cuenta con cuatro episodios de media hora cada uno. Y cada episodio está compuesto por diferentes monólogos que, en conjunto, nos ofrecen una reflexión en torno a un aspecto del amor. De este modo, el título de la serie se convierte en una afirmación: amor es…
Una afirmación que se cuenta en cada capítulo, a través de voces experimentadas.
Un proyecto de altura que propone lo audiovisual no tan sólo como género de entretenimiento, sino también como medio para hacer arte.
-Mayra Santos-Febres, escritora.
Un proyecto dramático único.
-Yolanda Zabala, Ex Presidenta Corporación de Puerto Rico para la Difusión Pública.
EQUIPO REALIZADOR:
Script: José Ignacio Valenzuela
Director: Paloma Todd / Roberto Busó
Production: Pedro López
ELENCO:
Joaquín Jarque
Axel Anderson
Yamaris Latorre
Sara Jarque
Sully Díaz
René Monclova
Dolores Pedro
Rocky Venegas
Gladys Rodríguez
Gilda Galán
Luz Odilea Font
Sunshine Logroño
Antonio Pantojas
Jacobo Morales
Nominated for an Emmy Award (Suncoast Chapter), in the category of Writing (2005)
Producciones Caleidoscopio Inc. for TUTV
San Juan, Puerto Rico
2004