En la Playa
On The Beach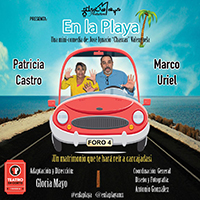 Following the recommendation of their psychologist, a couple decide to go to the beach, and drive alone to solve all their relationship problems. What seems a simple journey, across an unknown road, will become the starting point of a hilarious situation that appears to be the end. But sometimes just changing a little bit, you can change the whole world.
CREW:
Author: José Ignacio Valenzuela
General Coordination: Antonio González
Director: Gloria Mayo
CAST:
Patricia Castro
Marco Uriel
Mexico
2016
---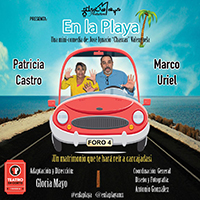 Por recomendación de su sicólogo, un matrimonio decide irse a la playa, solos y en coche, para resolver todos sus problemas de pareja. Lo que parece un simple trayecto, por una desconocida carretera, se convertirá en el punto de partida de una hilarante situación que ya no parece tener marcha atrás. Y nos demostrará, además, que a veces basta cambiar solo un poquito para que cambie el mundo entero.
EQUIPO REALIZADOR:
Author: José Ignacio Valenzuela
Coordinación General: Antonio González
Director: Gloria Mayo
ELENCO:
Patricia Castro
Marco Uriel
México
2016