Malas / Bads
2014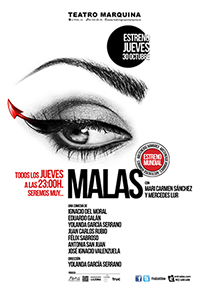 Dare to be a bad girl.
We all love bad girls, bad women, even bad grandmothers. The bad girls fascinate us. We recognize ourselves in them. Why? Dare to discover it.
CREW:
Authors: José Ignacio Valenzuela, Antonia San Juan, Félix Sabroso, Juan Carlos Rubio, Yolanda García Serrano, Eduardo Galán, Ignacio Del Moral.
Directed by Yolanda García Serrano.
CAST:
Mari Carmen Sánchez
Mercedes Lur
SPAIN
2014
---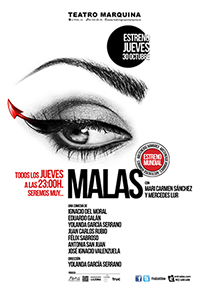 Atrévete a ser mala.
A todos nos gustan las chicas malas, las mujeres malas, las abuelas malas. Las malas nos fascinan. Nos reconocemos en ellas. ¿Por qué será? Atrévete a descubrirlo.
EQUIPO REALIZADOR:
Autores: José Ignacio Valenzuela, Antonia San Juan, Félix Sabroso, Juan Carlos Rubio, Yolanda García Serrano, Eduardo Galán, Ignacio Del Moral.
Dirigida por Yolanda García Serrano
ELENCO:
Mari Carmen Sánchez
Mercedes Lur
España
2014