El día de la madre
2012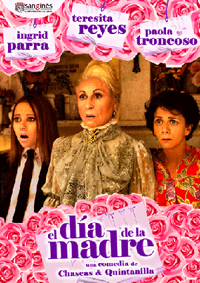 Mother's Day
A comedy of false mothers, spurious daughters… and a funeral
On Mother's Day, in a family mausoleum lost in northern Chile, a grandmother, a mother and a granddaughter, discover that they are neither grandmother nor daughter nor granddaughter. From that moment on these three women will celebrate with boundless doses of humor, laughter and sorrow an explosive day of the mother that will be never forgotten!
CREW:
Authors: Jose Ignacio Valenzuela and Julian Quintanilla
Director: Julian Quintanilla
Production: Juan Pablo Sáez & Julio Sáez
CAST:
Teresita Reyes as Violeta
Paola Troncoso as Cotillon
Ingrid Parra as Prudencia
Produced by Corporación Cultural Teatro San Ginés and QdeQuintanilla Productora Teatral
Chile
2012
---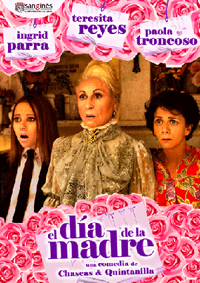 El día de la madre
Una comedia de madres ajenas, hijas postizas y un funeral
Durante el día de la madre, en un mausoleo familiar perdido en el norte de Chile, una abuela, una madre y una nieta, descubren que no son ni abuela, ni hija ni nieta. A partir de ese momento, esas tres mujeres van a celebrar con una infinita dosis de humor, carcajadas y dolor un explosivo día de la madre que nunca podrán olvidar.
EQUIPO REALIZADOR:
Autores: José Ignacio Valenzuela y Julián Quintanilla
Director: Julián Quintanilla
Producción: Juan Pablo Sáez y Julio Sáez
REPARTO:
Teresita Reyes as Violeta
Paola Troncoso as Cotillon
Ingrid Parra as Prudencia
Una producción de Corporación Cultural Teatro San Ginés and QdeQuintanilla Productora Teatral
Chile
2012