INSTRUCCIONES PARA UNA BOFETADA
INSTRUCTIONS FOR A GOOD SLAP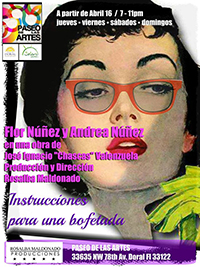 INSTRUCTIONS FOR A GOOD SLAP
Here you suffer a lot … but tasty.
A telenovela diva nicknamed "The Queen of the slaps" must teach a beginner how to hit the cheeks of the other actors. To achieve that goal, the diva involves herself so emotionally that at one moment she stops talking about telenovelas and starts giving life lessons.
CREW:
Author: José Ignacio Valenzuela
Production and direction: Rosalba Maldonado
CAST:
Flor Núñez
Andrea Núñez
United States
2015
---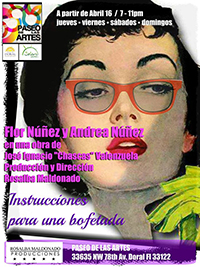 INSTRUCCIONES PARA UNA BOFETADA
Aquí se sufre mucho… pero sabroso.
Una diva de las telenovelas, apodada "La reina de las bofetadas", debe enseñar a una novata cómo golpear las mejillas de los demás actores. Para eso se implica emocionalmente en la enseñanza. Tanto, que muy pronto dejará de hablar de telenovelas para comenzar a darle lecciones de vida.
EQUIPO REALIZADOR:
Autor: José Ignacio Valenzuela
Producción y dirección: Rosalba Maldonado
ELENCO:
Flor Núñez
Andrea Núñez
Estados Unidos
2015