MANUELA Y MANUEL, ESPERAN POR ÉL
MANUELA Y MANUEL ARE WATING FOR HIM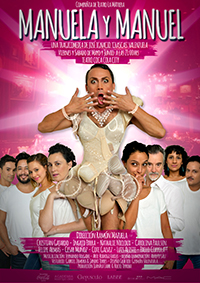 Amidst her worst love crisis, Manuel will have to pretend to be the boyfriend of her friend Coca, who faces his conservative family with a pregnancy resulting from a night of passion. Hidden identities, misunderstandings and tension of two friends trying to be what they are not, give rise to a comic situation after another. And if we add one outspoken character called The Pharaoh, who seems willing to do anything to stand out, the result can only be hilarious and very unexpected.
CREW:
Author: José Ignacio Valenzuela
Director: Ramón Mazuela
CAST:
Cristián Gajardo
Ingrid Parra
Nathalie Nicloux
Carolina Paulsen
Felipe Armas
César Muñoz
Coté Gálvez
Luis Aliste
Paolo Coppola
Chile
2015
www.manuelaymanuel.cl
---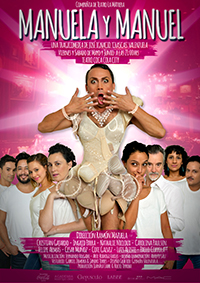 En medio de su peor crisis amorosa, Manuel tendrá que hacerse pasar por el novio de su amiga Coca, que se enfrenta a su familia conservadora con un embarazo producto de una noche de pasión. Identidades ocultas, malentendidos y la tensión de dos amigos tratando de ser lo que no son, dan lugar a una situación cómica tras otra. Y si a esto añadimos un personaje llamado La Faraona, que parece dispuesto a hacer cualquier cosa a destacar, el resultado sólo puede ser hilarante y muy inesperado.
EQUIPO REALIZADOR:
Author: José Ignacio Valenzuela
Director: Ramón Mazuela
ELENCO:
Cristián Gajardo
Ingrid Parra
Nathalie Nicloux
Carolina Paulsen
Felipe Armas
César Muñoz
Coté Gálvez
Luis Aliste
Paolo Coppola
Chile
2015
www.manuelaymanuel.cl