Santa Diabla
2013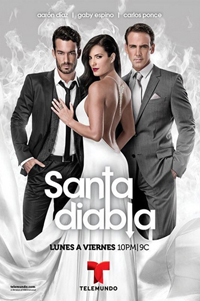 Santa Martinez's life changes unexpectedly when her husband Willy is hired as Daniela Cano's private music teacher. Daniela is the granddaughter of Gaspar Cano, who is one of the most powerful attorneys in town and has a large fortune.
What seemed to be a wonderful opportunity soon turns out to be her worst nightmare. The seductive Barbara Cano, Daniela's mother, becomes obsessed with Willy and pursues him, even though she is a married woman. At the same time, Willy discovers Daniela's secret drug use. Mother and daughter conspire to falsely accuse Willy of sexual harassment.
Like a savage shark, Humberto Cano drags Willy to court to answer to his family's accusations, and a scandal erupts in the media.
A bomb explodes within the Cano family when Georges, Barbara's husband and Daniela's father, reveals a video which proves that the case filed was a complete fabrication by the women.
Humberto cannot believe that he has been deceived by his own family. But now it is too late; his reputation is at stake. False evidence is presented and Willy is sentenced to 30 years in prison.
Fearing that the truth will be revealed, Humberto decides to take drastic measures: he will have Willy eliminated.
Santa, who is unable to forget what happened, devises a plan to take revenge on the members of the Cano family, a plan that will force her to become Amanda Braun.
Amanda will be willing to do whatever she must to carry her plan to its logical conclusion.
But her plan did not account for Santiago, the third brother of the Cano family, who appears suddenly and steals her heart right from the beginning. Santiago is the complete opposite of the rest of his family and as love once again blooms in her life, Amanda realizes that her plan is now in jeopardy.
CREW:
Original Idea & Script: José Ignacio Valenzuela
Literary adviser: José Vicente Spataro
Producer: Carmen Cecilia Urbaneja
Director: Luis Manzo
CAST:
Gaby Espino
Aarón Díaz
Carlos Ponce
Ximena Dique
Frances Ondiviela
Roberto Mateos
Lincoln Palomeque
Wanda D'Isidoro
Ezequiel Montalt
Lis Vega
Zully Montero
Fred Valle
Christian de la Campa
Maki
Virna Flores
Eduardo Orozco
Kenya Hijuelos
Alberich Bormann
Jeimy Osorio
Raúl Izaguirre
Luis Caballero
Gilda Haddock
Gerardo Riverón
Beatriz Valdés
Pedro Telémaco
Gledys Ibarra
María Raquenel
Javier Valcárcel
Ana Osorio
Carlos Augusto Maldonado
Jorge Eduardo García
TRAILER
OPENING CREDITS
EPISODE 1
---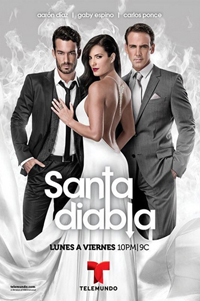 La vida de Santa Martínez cambia inesperadamente el día que su esposo Willy es contratado como profesor particular de música de Daniela Cano, nieta de Gaspar Cano, uno de los abogados más poderosos del pueblo y dueño de una gran fortuna.
Lo que parece ser una gran oportunidad, pronto se convierte en su peor pesadilla: la seductora Bárbara Cano, madre de Daniela, se obsesiona con Willy y lo acosa, a pesar de ser una mujer casada. Al mismo tiempo, Willy descubre el secreto de consumo de drogas de Daniela. Madre e hija conspiran para acusar falsamente a Willy de acoso sexual.
Santa, incapaz de olvidar, elabora un plan que incluye vengarse de los integrantes de la familia Cano. Un plan que la obliga a convertirse en Amanda Braun. Decide conquistar y seducir a Humberto Cano para poder estar cerca de la familia que le destruyó la vida. Santa tiene planeada una venganza cruel y calculada para cada uno de los integrantes de la familia, pero la cosa se pone color de hormiga cuando conoce a Santiago, uno de los hermanos que le robará el corazón. Santa quedará dividida entre un amor sincero y la justicia.
EQUIPO REALIZADOR:
Idea Original y guión: José Ignacio Valenzuela
Asesor literario: José Vicente Spataro
Productora: Carmen Cecilia Urbaneja
Director: Luis Manzo
ELENCO:
Gaby Espino
Aarón Díaz
Carlos Ponce
Ximena Dique
Frances Ondiviela
Roberto Mateos
Lincoln Palomeque
Wanda D'Isidoro
Ezequiel Montalt
Lis Vega
Zully Montero
Fred Valle
Christian de la Campa
Maki
Virna Flores
Eduardo Orozco
Kenya Hijuelos
Alberich Bormann
Jeimy Osorio
Raúl Izaguirre
Luis Caballero
Gilda Haddock
Gerardo Riverón
Beatriz Valdés
Pedro Telémaco
Gledys Ibarra
María Raquenel
Javier Valcárcel
Ana Osorio
Carlos Augusto Maldonado
Jorge Eduardo García